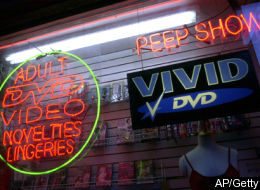 LOS ANGELES, Jan. 7 (Xinhua) -- Two executives of the U.S. adult entertainment industry on Wednesday called for a financial bailout from Washington, arguing that their business is as important for Americans as the banking and auto industries.
Pornographic magazine Hustler's publisher Larry Flynt and "Girls Gone Wild" adult franchise founder Joe Francis said in a statement that they have sent a joint request to Congress asking for a
5-billion-dollar
federal bailout to help the industry weather difficult financial times.
While the adult entertainment industry is still viable amid the current economic recession, the sagging economy has had an impact, the publishers said.
According to them, adult DVD sales and rentals have decreased by 22 percent in the past year, and viewers are increasingly turning to the Internet for adult entertainment.
About half of all Internet users visit adult-entertainment sites, Flynt and Francis said.
They said that Congress seems willing to help shore up the nation's most important businesses, and the adult entertainment industry deserves the same consideration.
"In difficult economic times, Americans turn to entertainment for relief," said Francis. "More and more, the kind of entertainment they turn to is adult entertainment."
However, Flynt thought that economic hardships are damping Americans' appetite for sex.
"People are too depressed to be sexually active," Flynt said. "This is very unhealthy as a nation.
Americans can do without cars and such but they cannot do without sex."
"It's time for Congress to rejuvenate the sexual appetite of America. The only way they can do this is by supporting the adult industry and doing it quickly," he said.
On one hand I wanna say "stop the madness" but on the other, I'ma have to say...
I got 5 on it!!
No, really... I'm ALL for the porn but no way in hell is that shit goin down.
He does raise an interesting point though... "Americans can do without cars and such but they cannot do without sex."
Hmmm... have transportation... or have sex? Is it sad that that's a really hard decision for me?
I would be the happiest bitch you ever seen on the sidewalk, just a skippin to work.